Centre For Girls Education is proud to present to you the outstanding individuals and teams that work hard for our cause.
Mardhiyyah Abbas Mashi:
chair of the board
Mardhiyyah is the chair of the CGE board of directors. She is an Islamic Scholar and Lecturer in Islamic and Arabic Studies at Ahmadu Bello University, and has organized our workshops for religious leaders since CGE's inception. Mardhiyyah received her Ph.D. in Arabic and obtained postdoctoral degrees from Umdurman Islamic University in Sudan in Islamic Education. Her previous research focused on the rights of women in Islam.
habiba mohammed: director
Before becoming our director, Habiba held virtually every position in the organization, including serving as the centre's first mentor, leading support staff, and co-leading research on early marriage and girls education. In 2014, Habiba was awarded a Teaching Excellence and Achievement Programme fellowship that at Bowling Green University in Ohio. Two years later, she was selected as one of Malala Yousafzai's International Girls' Champions. Habiba has a BA in English Literature, a Professional Diploma in Education, and a Higher Diploma in Guidance and Counseling.
Daniel perlman: founder
Daniel founded CGE in 2007 together with Habiba and Mardhiyyah and served as its first director until 2016. He is a medical anthropologist at the OASIS Initiative, University of California, Berkeley, and has worked in rural Africa, Asia, and Latin America for much of his life. Daniel now advises the CGE program teams on monitoring, evaluation, and implementation research as we adapt the safe space model to the needs of a wider range of girls from the most vulnerable families. Daniel has lived in northern Nigeria several months a year since CGE's establishment.
Our Teams
PRESCHOOL SAFE SPACE TEAM
Khadijah Bello Aminu, Fawole Iretioluwa, Lubabatu Ahmad Salisu (left to right)
transitions out of school program TEAM
Hauwa Yusuf, Maimuna Uzairu, Sakina Abdulkadir, Fatima Abubakar, Halima Yunusa, Katherine Kwarumba Zira, Mercy Bolaji (back, left to right); Bilkisu Bappa, Maryam Ilyasu, Bilkisu Abba, Maryam Albashir (front, left to right); Ramatou Mamman, Mercy Bello, Bilkisu Shuaibu (not pictured)
GIRLS FOR HEALTH TEAM
Hajara Sani, Nafisa Ahmad, Alawiyya Abdullahi, Fatima Abdullahi Kudu, Amina Aminu Musa, Victoria Bello, Fatima Abdulrahman (back, left to right); Isah Muhammad, Zainab Dauda, Bilkisu Bara'u (front, left to right); Abdurrahman Yusuf (not pictured)
INTERNS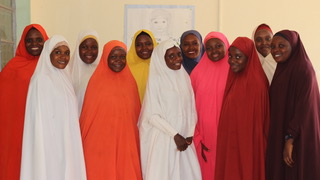 Rabiatu Abdullahi, Farida.S. Usman, Murjanatu Suleiman, Maimuna Uzairu, Zainura Ahmad, Hajara. M. Sani, Nusaiba Zubairu, Amina Yusuf, Zulaihat Usman, Sakina Abdulkadir, Nafisa Ahmad (left to right); Hafsat Rabiu (not pictured)
evaluation TEAM
Aba Aminu, Aisha Abu (back, left to right); Mary David, Hajara Abubakar (front, left to right)
GIRLS CAMPAIGN FOR QUALITY EDUCATION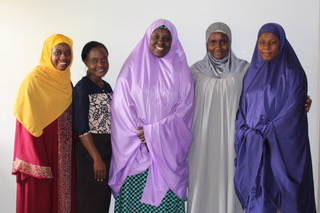 Bilkisu Aminu Gurin (Communication Officer), Remilekun Rose Adewole (Communication Officer), Fatima Suleiman (Program Officer), Aisha Bello Aminu (Deputy Program Officer), Maryam Abubakar (Advocacy Assistant) (left to right); Gimbiya Akapson (Deputy Program Officer) (not pictured)
PATHWAYS TO CHOICE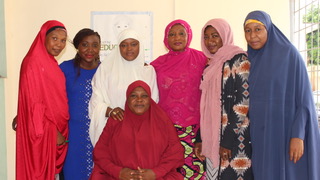 Maryam Abubakar (National Program Officer) (seated); Maryam Abdullahi (Mentor Supervisor), Joy Ochai (Program Officer), Khadijah Adamu (Deputy Program Officer), Bilkisu Bappa (Mentor Supervisor), Nafisa Aliyu (M&E Officer), Amina Ibrahim (Mentor Supervisor) (left to right); Habiba Lawal (Mentor Supervisor), Abdullahi Yakubu (National Accountant) (not pictured)
PRESCHOOL SAFE SPACE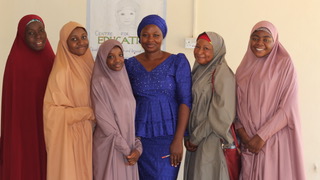 Saudat Abdussalam (Mentor), Khadijah Bello Aminu (M&E Assistant), Fadila Idris Makarfi (Mentor), Iretioluwa Fawole (Program Officer), Bilkisu Muhammad (Mentor), Lubabatu Ahmad Salisu (M&E Assistant) (left to right)
adolescent girls initiative
Blessing Bawa Adamu (volunteer), Khadijah Mohammed (Mentor Supervisor), Zainab Aminu Gurin (National Program Officer), Hassana Zubairu (Mentor Supervisor), Kalthume Usman (Mentor Supervisor), Iretioluwa Fawole (Deputy Program Officer), Gloria Yakubu (Mentor Supervisor), Zainura Ahmad (Intern), Lubabatu Ahmad Salisu (Deputy Program Officer), Faith Adamu Bawa (Program Officer) (left to right — standing); Ahmad Mati (M&E Assistant), Khalid Sarki (M&E Officer), Fatima Baba (National Program Officer), Shettima Aliyu (Accountant) (left to right — sitting)